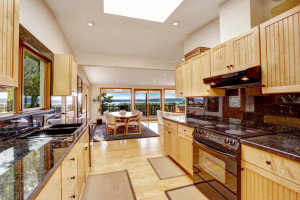 by Roberta Murphy
In Praise of Black Appliances
Several years ago, we sold a luxurious oceanfront condo in San Diego. The buyer, from Palm Springs,  loved the views, the spaciousness of the remodeled unit and the highly upgraded kitchen. The only thing she couldn't stand was the stainless refrigerator (which the seller was happy to take with him).  In fact, she wanted to replace everything with black appliances.
I asked why she was so averse to stainless.
She replied that with three sons, she couldn't stand seeing their fingerprints on stainless surfaces day in and day out. A black refrigerator was to be one of her first purchases.  I saw the condo after they moved in and the stainless kitchen had turned into a seriously sexy one. The black appliances perfectly contrasted with the warm wood cabinets with black trim. I was impressed.
Fast forward a few years and after seeing countless more stainless kitchens (including my own), we've become restless for change. The cherry cabinets have darkened over the years, and during the last few months I've found myself holding black objects up to the cabinets. Black for sure was more appealing than stainless. My hardware is also black and beckons for company.  A noir kitchen was on the horizon, for sure!
Appliances, fortunately, eventually wear out–or wear on patience. I have long pined for the induction cooktop I once had–and decided this last week that life is just too short. And our stainless refrigerator was a senior citizen at the ripe old age of 12.  Today, we headed over to Pacific Sales and ordered black appliances, which includes a lovely 6-burner Bosch induction cooktop and the JD Powers premier 3-door Samsung–all in black.
I asked the sales people if there had been an uptick in black, white and colored appliances and they said this is the case. Many people are tiring of the stainless kithens and are generally opting for the newer black or white appliances–and very often go for more colorful washers and dryers sitting in a laundry room that could use a big spark of color.
Taylor Murphy, a vocal landscape designer and tasteful designer, is also a fan of black appliances. She feels stainless is just passe and love the warmth of black with rich woods.
And in Europe, there seems to be a definite trend toward black and white appliances–perhaps though, because of higher costs for stainless, according to The Improvemente Center site. Will the glossy Noir or Apple White kitchens catch on more broadly in the United States?  Will stainless remain number one?
Nothing is permanent but change.