Last Christmas, son Scott gave me a series of passes to a cryotherapy center in Del Mar. I would strip down to only underwear, special mittens and insulated socks. Then, I would step into a cubicle and freeze my patootie off for 3 minutes in swirling gases that registered like 180 degrees below zero. It felt like my frozen skin was going to crack and fall off my body. I couldn't wait for the freezing torture to end.
Stepping out, though, I felt like a million bucks. Energy levels were high and at night I slept like a tired baby. One cryotherapy session is also reported to burn 800 calories. Not bad!
I became a reluctant believer in cryotherapy and was amazed when long time friend and former business associate Loree Nichols opened CryoVisage in downtown Carlsbad, not far from where we live. Loree, who is also a real estate broker, has a long history and abiding interest in skin care and health. Her offering of cryofacials was too good not to explore. When I saw how a huge neck scar online had virtually disappeared on a woman after a month or so of 15-minute CryoVisage treatments, I was sold.
I don't have any serious scars, but I do know that collagen turnover in our skin helps keep is supple and firmer than it would be otherwise. And cryotherapy seemed like a promising possibility.
Especially since I didn't have to freeze the patootie off.
Upon meeting with Loree, I discovered that her Fire-n-Ice facials are unique, in that she incorporates her totally unique and exclusive anti-aging skin serum both before and after the 15-minute CryoFacial treatment (that also goes way below freezing). That serum turns out to be a powerhouse of nutrients, peptides and activators for the sirtuin gene, which, among other things, functions as anti-aging gene.  It's a complicated formula invented by a now deceased chemist who developed the formula to successfully assist in reviving dying and dead skin tissue by encouraging the growth of new skin and blood vessels. Loree used the product personally for years and when the chemist heard that she was opening a CryoFacial salon, he said the serum and cryotherapy treatments would be an explosive success.
And so it has.  Before the chemist's death, Loree acquired all marketing rights for the serum which is carefully manufactured to exacting specifications in a local facility. It is garnering new fans every week, with most returning for more,
I am sold on the Fire-N-Ice serum and now use it morning and night after cleansing my face–and sometimes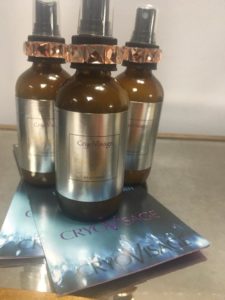 in the middle of the day for a refresher. It also goes on my neck, décolletage and hands. And compared to other high end skin care products, this one is a bargain at $89 for four ounces. And is far superior.
And the cryofacials? After 6 consecutive 15-minute sessions, I swear there has been some tightening and lifting of my skin.I am also sure the Fire-N-Ice serum has helped things along, but the synergy between the two treatments is truly unique.
CryoVisage is located with the Ooh La La Boutique at 2972 State Street, Carlsbad, CA 92009. Loree Nichols can be reached at 760-815-7355 or email loree@cryovisage.com
The treatment is fast and can be done in between other appointments. Removal of clothing not needed.