By Hannah Goodman of Trulia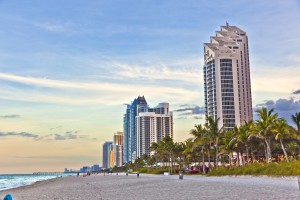 As one of the top luxury real estate markets in the world, Miami has become the playground of the rich and famous. Celebrities and business moguls alike invest in Miami real estate to get their own piece of Magic City's incredible vistas, beautiful beaches, and nightlife.  Those who seek a secure home with all of the latest technology and furnishings will find all of that and more in most Miami luxury buildings and developments, in addition to privacy and unobstructed ocean views. However, that kind of prestige comes at a heavy price tag, and in some areas of the city, it is not unusual to pay upwards of 10 Million Dollars for a home. So which areas in the city boast the best amenities? The following neighborhoods are just a few popular destinations for those who seek to join the Miami elite.  South Pointe
(South Beach)

Located at the far end of the world famous Miami Beach is South Pointe, better known as South Beach.  A popular neighborhood for those looking to take in Miami's world famous nightlife. The area is known as one of the most affluent areas of Miami, and thus is home to many celebrities. The current average listing price for a home in South Pointe is $2,516,716, and the area is almost entirely walkable, with most housing only steps from upscale dining and the beach.  
Downtown Miami is split into two major districts, Downtown and the Brickell Financial District. The area is a culturally rich, urban center that has seen immense growth over the last few years, thus attracting many young professionals to the area.  In fact, the Brickell District is one of the fastest growing financial hubs in the country. Real estate in Downtown Miami ranges from affordable old fashioned studios to multi-million dollar newly-constructed condo and penthouse towers. The stars in Miami are everywhere, even in its architecture. "Starchitect" Zaha Hadid constructed his first residential tower in the United States.  The current average listing price for the Downtown Miami Area is $1,694,105.
Coconut Grove is a quiet, historic neighborhood of Miami, known for its exquisite 20's style homes. It is a great place to raise a family.  According to local Miami Real Estate agent, Ines Hegedus-Garcia, "Coconut Grove is not only home to the best private school in South Florida, Ransom Everglades, but also has some amazing single-family homes." The area is safe, private and pricey, with an average listing price of $1,081,997.