by Scott Murphy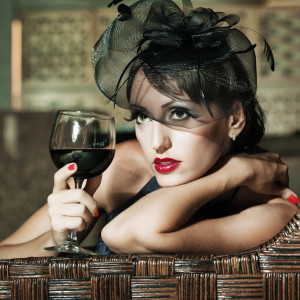 Oh, don't we wonder what products are the hottest luxury brands for 2015?
Don't we wonder how to keep our closets and wardrobes current with the latest–and wondering why brands like Gucci and Louis Vuitton are becoming passe?
It may partly be because these luxury brands have become so common (thanks to millions of knockoffs) and are hence less rare. And that's what is most desireable in a luxury brand: Rarity and exclusivity. Luxury brands are perhaps the best way to show off wealth  and status, and there's a flood of new millionaires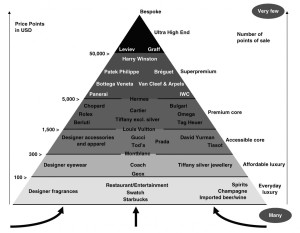 around the world who like showing off — especially them burgeoning Chinese Nouveau Riche.
Roberta's  Miami friend and luxury broker in Miami Beach, Kevin Tomlinson, is a fan of fine brands and I'm sure he would be familiar with the hierarchy triangle pictured–compliments of Business Insider's latest hierarchy of luxury brands for 2015, 
Squint your eyes and you'll see that Bespoke suiting plus Graff Diamonds and Leviev jewels top the hierarchal list and are considered "ultra high end." Just below them are super premium brands like Harry Winston, Patek Phillipe, Bottega Veneta, Breguet, Van Cleef & Arpels, Panerai and Swiss luxury watchmaker IWC.
The "Premium Core" brands would linclude Chopard, Hermes, Bulgari, Omega, Cartier, Rolex, Tiffany, Tag Heuer and Berluti. The more "Accessible Core" includes such brnads as Gucci, Tod's, Prada, David Yurman and Tissot. In these groups you'll find a larger number of affordable (and very illegal) knock-offs.
The "Affordable Luxury" contingent would include the more available Montblanc, Coach, Tiffany Silver, designer eyewear (including Chanel), and Gerx. Below that are everyday luxuries enjoyed by many including Starbucks, Swatch, designer fragrances, and both craft and imported beer, wines and spirits.
Don't mean to hijack this luxury blog, but saw this hierarchy and couldn't resist publishing the most desired luxury brands for 2015. Personally, I'm a big fan of Robert Graham shirts (especially his limited editions) and finely-fitted clothing–regardless of brand.