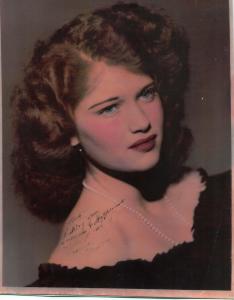 God planted one of his angels on a chilly Saturday November 19 morning in Wichita Falls, Texas. She grew up dirt poor, mischevious, resourceful–and was a promising athlete until a blood infection settled into her hip at the age of 14, which left her periodically crippled much of her life.
Edith Putnam Michelson was a beautiful woman with a 1000-watt smile. She also had a rocking sense of humor and loved nothing more than a well-planned–and sometimes spontaneous–practical joke.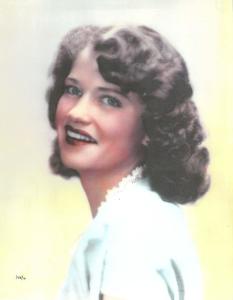 She threw great parties, was a classic flirt, danced through hip pain, and sometimes fell into very deep and dark depressions.
These were tough times for our Angel–and which baffled my sister Gayle, our dad and me. It was usually a sense of betrayal that brought her down and made her wish she could just run away. Gayle and I have quietly discussed this over the years, and I think we would both agree that while her periodic depression was certainly a treateable disease, there was also much truth and history that might have triggered these episodes.
And little of it had anything to do with any of us.
It was more the perils of growing up in a very poor and divorced family in the depths of the Great Depression. And being abandoned by her mother at the sweet and changing age of 13. It as a secret she hid–and buried–for much of her life.
A brilliant survivor, she moved with her sister to California after World War II and even managed to attend a business college in the Los Angeles area. A few years after the war, she married Lt. Robert Michelson, a dashing Army Air Corps pilot, and the two of them brought forth Gayle Michelson Dreisbach and me (in reverse order).
But none of what I've shared show evidence of Edith Putnam Michelson being an Angel.
She was a healer
.Friends and family knew that her touch could lessen pain–and often asked for her help. Since her slow death in 2006, I have often wanted to feel her hand on my brow, my arm. Just one more time. And to hear her soothing angel voice.
She had a heart the size of Texas
and several times during my childhood tried to adopt children in danger of abandonment. She initiated drives to gather decent school clothing for children in need and allowed an assortment of orphans into our home including a baby possum, kittens, a goat, chickens and birds. As well as five needy little children at one time.  She hated suffering and did these things with neither government nor church support.
She just did these things…because. Because that's just who she was.
I could probably write a book about this beautiful and big-hearted woman who rose from dust of the Depression to becoming a Who's Who Among American Women.  But mostly I want to share a birthday wish to a brilliant woman who has the love and admiration of her husband, two daughters, six grandsons and many friends on both sides of existence.
Happy Birthday Mom!