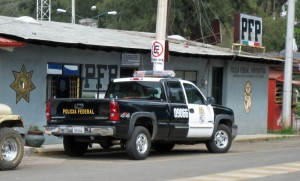 At the risk of infuriating some and appearing xenophobic, I am warning against travel to Mexico. Chances of ending up in a Mexican jail are probably pretty remote–unless of course you happen to be in the vicinity of illegal substances.
That's what happened to Yanira Maldonado, an Arizona mother of seven who is sitting in a Mexican jail. She had gone down to Mexico to attend a family funeral and was riding back home on a bus.
Apparently, someone was trying to smuggle 12 pounds of marijuana across the border and packed it under one of the seats. And it just happened to be the seat Yanira Maldonado sat upon for her fateful trip home.
And in Mexico, one can be arrested and thrown in jail just for being in the proximity of drugs.
According to local reports, the family was told that they would need to pay $5000 to get Yanira, a Mormon, released from jail, whether she was innocent or not. After scraping the money together, family members were told it was too late. She now must go through the Mexican court system.
Meanwhile there are other Americans rotting in Mexican jails for being inadvertant mules and pawns for the Mexican drug cartels.  We don't know how many Americans are imprisoned in Mexican jails because our State Department no longer reports the numbers. But in 1998, CNN reported that there were 400 U.S. citizens sitting in Mexican jails and prisons.
Until Mexico gets its corrupt criminal justice system in order and presumes innocence instead of guilt, reduces its murder rate which is 600% higher than in the United States, and its high incidence of kidnappings–perhaps we should just stay away.
Mexico is expecting 20 million tourists in 2013. I am encouraging a boycott.