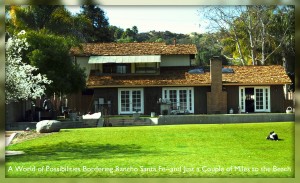 Between Rancho Santa Fe and the beaches in Encinitas sits an irreplaceable plot of land that surely belongs to another century.
The wide and expansive rear lawn backs up to pasture, wetlands and forest beyond.  Family of deer come grazing and cows come to visit when the lawnmower is at work.
Late afternoons, it is not unusual to see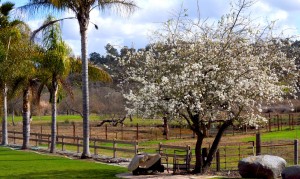 colorful hot air balloons gliding across the sky–and the stars at night twinkle just a little brighter than in the surrounding suburbs. Love the ocean? Encinitas and Cardiff beaches are just a couple of miles away.
The 4-bedroom home itself has aged gracefully–and has many possibilities for expansion and improvement.  It could truly be a decorator's dream-come-true.
Oversized 3-car garage and ample guest parking.
Close to excellent public and private schools and Mira Costa College (San Elijo Campus).
Home feels rural, but is very close to Harvest Ranch Market, fine restaurants and upscale boutiques.
Asking price is $1,350,000.
This property is not yet in the MLS, but private showing can be arranged. For additional information, call Roberta Murphy 877-818-8197 or 760-402-9101.