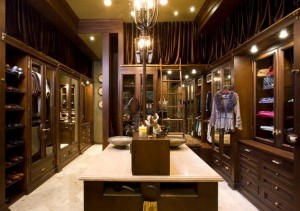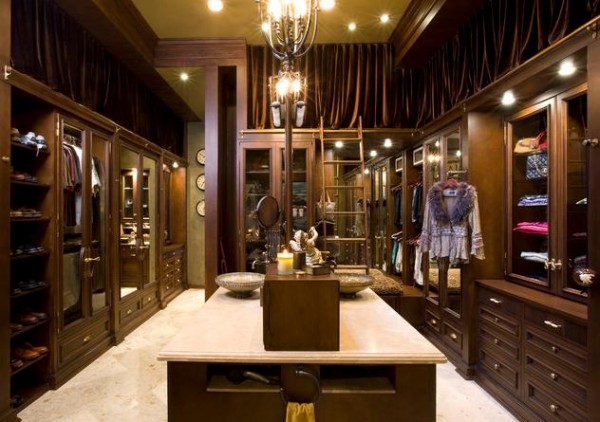 We've written about luxury closets in the past, but these days some are spending up  to $500,000 for luxe clothing storage that might include a champagne refrigerator, sound system, glass-enclosed display cabinets, wet bar or even a breakfast area.
Gone are the simpler days of a luxurious dressing room. The master closet area has become a destination room.
The Wall Street Journal reported yesterday on four luxurious closet areas, ranging in size from a modest 600 square feet to a dressing suite with 1300 square feet.  What are the trends with luxury closets?
Luxury home owners today want closets that invite lounging–with prized clothing and accessories on display behind lighted display cabinets. Materials used may include exotic woods, crystal chandeliers and windows that allow for natural lighting. These dressing lounges might also have a sound system, television, jewelry vaults, exercise equipment and even an office nook. Clothing is easily compartmentalized, with large and organized spaces for shoes, hanging clothes, accessory storage and vaults for jewelry and valuables.
These dressing areas have become trophy rooms of sorts–and are a key selling feature in luxury homes we show in our own San Diego real estate practice. Frequently, properties are crossed off luxuy home buyers' lists if closets are not large enough or appointed to their standards.
What are your demands when it comes to closets?
For additional reading: