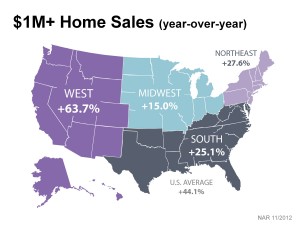 We have noted a decided uptick in our own luxury real estate market in San Diego.  Home shoppers from Europe, Canada, Mexico, Asia and the United States seem to have collectively decided that now is the best time to invest in coastal San Diego–in communities ranging from Coronado and downtown San Diego to La Jolla, Del Mar, Solana Beach and Rancho Santa Fe.
Apparently, this is a growing trend, as can be seen by this infographic that shows recent luxury home trends throughout the United States.  Anecdotally, we are hearing the same from luxury real estate brokers in Florida, Colorado, and other states.
As you can see, biggest gains in luxury home sales occurred in the Western states, followed by the Noetheast, the South and trailed by the Midwestern states.