by Roberta Murphy
Every library should try to be complete on something, if it were only the history of pinheads.
—Oliver Wendell Holmes, Sr. (1809-1894)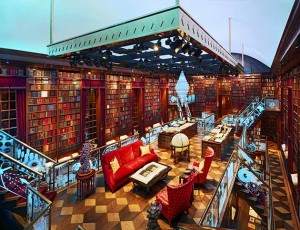 A home library, more than any room in a home, has the potential to reflect the essence of its owner. Here is a place to organize and keep those books that are both acquaintances and lifelong friends. The home library is also often where collections are kept, if only because they make such good companions for books.
Both collections and books record the passing and lasting interests and passions of its owner–and deserve a room of their own.
And though a home library would likely complement and merge with the design of the home, the quintessential home library would likely offer features such as:
Rich wood shelving that may even reach ceiling height. A rolling ladder works well here.
Wood or stone flooring covered with collectible area rug(s).
At least two very comfortable reading chairs with lamp(s).
A writing table or desk. The home library should be a perfect room for thinking and writing.
A library fireplace would be favored by many–and provides a warm ambiance.
The home library is a logical place to store and display personal collections and passions–especially if there is abundant shelving and/or cabinets. A family friend in Houston had a library full of rich wood shelving that housed not only a massive collection of leather bound books, but also an impressive array of Native American wood carvings. The library also served as his home office–and was undoubtedly his favorite room in the home.
The ultimate home library (pictured), though, may belong to internet entrepeneur Jay Walker, who also founded Priceline.com.  In a recent Wired interview, Walker gave writer Steven Levy a tour of his 3600 square foot library that is primarily devoted to those things that change the way we think.  His New England home library houses not only a Russian sputnik, but jewel-encrusted books, a raptor skeleton, Civil War surgical tools and thousands of other books and collectibles.