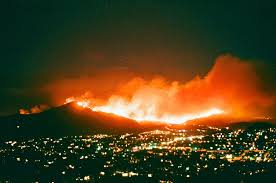 The displaced people of San Diego County are beginning to return home. Most return to standing homes; 1600 or so others are greeted by their nightmares: Homes destroyed by fires.
We are just beginning to hear and see stories of people returning to the burned heaps of rubble that were once their homes. They sift through some of the debris and find broken china, perhaps a metal bed frame, perhaps a spoon. They are somber, and many are tearful, as they survey the charred remains of former lives.
Still, the common response of all has been a profound gratitude for life. The fires may have stolen lifestyles and mementos, but they have also gifted people with a new appreciation for living.
A few days ago, I spoke with some who thought people would be leaving San Diego by the thousands.
At that time I thought not–and still do.
A family whose home was destroyed in Ramona was asked by a reporter if they were going to pull up stakes and move. The owner replied that his burned house is just a house, but Ramona is home. They will rebuild and remain in their home: Ramona. That is their community, where friends pull together and share a common history. Fires cannot destroy that bond.
I have spoken with several people whose La Costa homes were destroyed 12 years ago in the Harmony Grove Fire. Most rebuilt and remained in the community–because it is the community that is home.
No one means to minimize the horrible trauma of losing one's home. There is the shock of the initial loss, the months of haggling with insurance companies and contractors, the problems of displacement and finding temporary shelter, the process of rebuilding a lifestyle.
But the process of rebuilding a lifestyle allows for changes in living that might not have occurred otherwise. The rebuilt home may be configured differently, may better reflect your identity, may better serve your needs. And the rebuilding will be a process shared by the community, which will further tighten the bonds between neighbors and friends.
San Diego will survive and thrive.
If grass can grow through concrete, life can arise from the ashes.