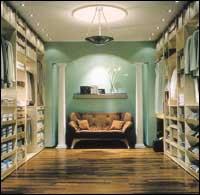 In our coastal San Diego luxury real estate market, buyers are almost manic about their closets–and especially the ones in the master suite.
Luxury home buyers are most pleased when there are separate closets for each–or if single, closets for the seasons. The compleat closet in the luxury home will be spacious, well lighted and masterfully organized. It is a room where we prepare ourselves to meet the world–or simply the day. The closet holds our clothing, our personal treasures, our shopping triumphs. It's status in homes has been elevated to be far more than functional storage. People now want to spend real time in their master bedroom closets.
And what are some features they would like to see?
A staggered hanging carousel for shirts, skirts and jackets.
A swing rod that comes down and elimates strain from reaching up for hangers–especially in closets with the more prevalent high ceilings.
Banks of bureau drawers that are fully extendable, and which have super-quiet concealed glides that prevent snaggy contact.
All shelves are smooth, snag-proof and have vertical dividers that can be adjusted for height.
A built-in floor or wall safe for valuables.
A few locking drawers.
Floor to ceiling mirrors. Natural lighting is often achieved with protected skylights.
Large spaces for organized shoe storage.
A dressing bench.
It is also a plus when laundry facilities are nearby.
Other bonuses and accessories in the luxury home master closet would be rotating show carousels, scarf and tie cellarets, lingerie caches, jewelry inserts, tasteful garment bags, decorative storage boxes, and wicker storage baskets with washable cotton liners.
If your closets come nowhere near this description (and my own do not), the best and first thing you can do (whether you plan to sell or not) is to clear it out and keep only those things that you love–and those which love you by hanging so well on your body. Look at your emptied closet and determine if it needs paint, new rods, shelves, scented shelf paper, or new lighting. Is there room for a mirror? A dressing bench? Might it be organized differently? Is there room to move in a small chest?
(If you follow Feng Shui guidance, this might also be the time to introduce needed elements to the room.)
This closet re-do is one that will yield great benefits to you, whether you intend to sell your home or not. There is nothing that beats the sense of peace and control that comes from having a beautifully organized personal closet that is used day in and day out. And if you are selling your home, it is a feature potential home buyers will appreciate.
The bedroom closet may be a small thing, but is one of the most frequently used spaces in the home.