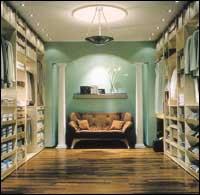 Upgrades anyone?
Last night, I spent a fun evening with an interesting Carlsbad Realtor who probably set a world record in San Diego luxury home upgrade sales in the late 1990s into 2003. Shara's experiences in new luxury home sales will be an article for another time, but I thought it might be important to peer into the current hot items being demanded for new luxury homes.
The list isn't hot off the press, but is certainly worth repeating. Last fall, Forbes reported on the features that were topping the lists for new, high-end luxury homes. An important thread running through this list is the importance of green in home features. Those eco-friendly items are all big energy savers, as well as being non-toxic building materials, earth-friendly woods, and energy efficient technologies that integrate lighting, heating, security and communications controls in the home.
The Forbes short list?
Spa-like bathrooms with saunas, towel warming drawers, amd heated floors. Serenity is the guiding mood.
Extensive computer-controlled systems to sensor control panels throughout the home. Light the pool, turn on the tub the spa or outdoor lighting, view surveillance camers scanning the outdoors or check to see if the garage door is closed. The possibilities are limitless.
Space flexibility. How about floor-to-ceiling bookshelves that slide aside to open up a room? Or a wall of glass doors that move aside to bring the outdoors in? Or the indoors out?
Outdoor kitchens are still on the must-have list. The compleat outdoor kitchen and entertaining area can cost anywhere from $50,000 to $200,000 or more. In addition to WOW-end outdoor cooking eqipment, the luxe owner might want a cabana, granite surfaces, wine cooler, ice maker , warming drawer, dishwasher and more. And swimming pools are also going over the deep and. Another story in the making.
Oenophiles rejoice! Custom wine storage made the list. Make it a wine cave, make it a small room, just make it for wine and keep the temperature and humidity under control.
For additional luxury home gadgets and reading, see:
The Snoring Room
The Self Service Spa (Do it at home?)
Long-Lasting Roses
Induction-Cooktop for the Luxury Kitchen
Ultimate Phone for the Luxury Bath
How to Hide the Bedroom TV
Switchable Mirror Glass Windows
SONOS: The Ultimate Sound System
Haute Refrigerators for Cool Kitchens?
The Overflowing Infinity Tub
Wine Storage for Oenophiles
The Illuminated Bathtub