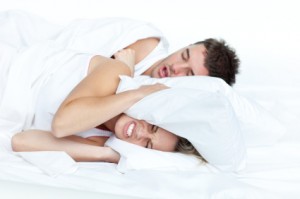 While going through a luxury home in Del Mar recently, our client was surprised to discover a snoring room off the opulent master suite. It measured perhaps 8 by 10 feet, and was furnished with a simple twin bed, a lamp and an easy chair. The room bore no resemblance to the larger bedroom, and at first glance might have been perceived as the proverbial dog house to which errant spouses are sent.
Not so, say fans of the snoring room. It is a room, they say, that spares marriages and affords peaceful nights of sleep. According to some real estate agents and Bob Vila, it may be one of the hot new building trends for 2007. There are even some conversion possibilities. Once an auttached nursery has been outgrown, it might be converted into a soundproofed room that could accommodate either the snorer or the victim. It certainly beats the couch and sleepless nights.
As an alternative to the snoring room, there is also that Darth Vadar CPAP mask. I was first introduced to these masks a few years ago when some dear friends came to visit for a few days. The couple modeled the masks for us and explained that they both slept peacefully through the night, thanks to these contraptions. I asked if these breathing machines interfered with their sleep and both said no. They slept peacefully and quietly through the night and were avoiding the problems associated with sleep apnoea and snoring.
Now, if only these masks could be offered as passenger drop-downs on airlines. They would surely get more use than the oxygen masks.