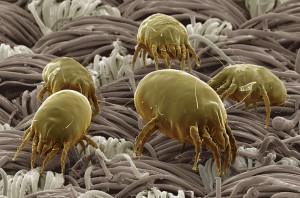 My Dad Bob Michelson struggled with COPD (Chronic Obstructive Pulmonary Disorder). He, more than almost anyone I know, understood the luxury of breathing.
But so do others. Especially those with allergies to dust mites.
Long ago, I was holding an open house for a lovely pool home in a gated San Marcos, CA neighborhood. Mid-afternoon, a tall German man walked in and placed a small hygrometer on the dining room table and proceeded to preview the home. Unable to restrain curiosity, I inquired about the purpose of the meter, which was measuring humidity levels.
The gentleman replied in a thick dialect that he had sold his home on the beach in Del Mar because he is allergic to dust mites, who require humidity levels above 70 percent in order to survive. He explained they absorb moisture through their exoskeletons and that is the reason these pests thrive in humid conditions. He went on to say that it is the feces from dust mites (which float around the air) that can be so toxic to those with allergies to dust mites as there is no convenient way to avoid breathing their crap.
And the lower humidity levels in San Marcos explained why this wealthy German was looking to relocate to this more arid and inland city in San Diego County.
After this encounter I immediately purchased my own hygrometer at the local Radio Shack and almost simultaneously called my parents in ever-humid Houston, Texas to share this dust mite revelation. There, humidity levels are regularly above 80 percent which just might have explained my dad's deteriorating COPD (Chronic Obstructive Pulmonary Disease) condition.
My folks also ended up moving to San Marcos a few months later, where my father's condition improved enough for him to live another 8-plus years. He thrived during our fire seasons, when humidity levels drop into the single digits and we ended up purchasing a $200 dehumidifier for the winter season when we occasionally receive rain and have some overcast conditions. This portable machine kept humidity levels low and additionally helped filter the air.
Earlier this week, I received a call from a dear friend who is also battling COPD and was complaining about the congestion that seemed to accompany the recent rains. I shared with her the story of our German client, the hygrometer–and the dehumidifier, which she purchased from Amazon while we were still on the phone.
Of course, mattresses, pillows and mattress pads can also hold human humidity and it is wise to have covers that repel dust mites.
For anyone who struggles with COPD or other breathing issues, I continue to champion dry air, dehumidifiers, protective coverings and the use of a hygrometer to measure indoor (and even outdoor) humidity levels.
Let those mites die of dehydration!